Listed below are some of my past achievements and projects I have worked on. My more rescent projects are listed in their respective catagories.
Video Work
Cromwell Productions
* Agincourt
* Joan of Arc…….Played Joan of Arc
* War of the Roses..Member of White Boar Fight Crew
* Flodden
* William Wallace
* Rob Roy
Film Work
* Chasing the Deer …..Starring Brian Blessed
* The Bruce ..Starring Oliver Reed Brian Blessed .as a Member of the White Boar Fight Crew
* Macbeth …….Jason Connery Helen Baxendale
* Merlin the Quest Begins ..Jason Connery Gareth Thomas .Played Character called Lamia
Stage Work
* Henry IV Part 1 .. Derby Playhouse ………………Fight Crew
* Othello … Ludlow Festival ….. ………Background Character
* It's a Mystery ……………………….CITV Robin Hood item
* Sword and Sorcery Weekend ……Disney Channel Armoured Knight
* Robin Hood Documentary…….. History Channel (Satel Doc) Lady
* Haunted History ………… History Channel Main Village woman
* Mary Queen of Scots ……………………… History Channel
* Robin Hood Documentary ……….Biography Channel Maid Marion
* King Arthur Documentary ……Biography Channel Fighting Knight
* Roman/Chinese Empires War and Civilisation Series Roman Woman
* Normans…………………………………… Norman Knight
* Agincourt/Crecy …………. …………..Knight on horseback
* Waterloo …………………. …French Eagle standard bearer
* News item for Games Works……………….. BBC Regional News
* ITV Telethon ……………………..ITV sword fight display
* Big Breakfast ..Chl 4 Item advertising Sherwood Forest Festival
* Blue Peter ………………….BBC1 Robin Hood Pageant story
Other Work
* Nottingham's Official Maid Marion working for City and County Council
* Performed at Medieval Banquets
* Performed many historical shows all over the country including Canada and Belgium to much acclaim.
* Also made several appearances at Euro 96 as Maid Marion and even scored a goal at Nottingham Forest Football ground in front of thousands of Croatia and Turkey fans! (Pre-match entertainment)
* School lectures on weaponry and warfare
* Trained sword fighter
* Experienced horse rider
* Experienced Costume maker
Xena History
Arguably the best Xena lookalike ever!
Winner of the Official Xena Warrior Princess Magazine Lookalike Competition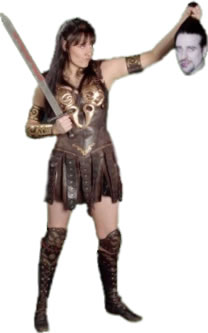 Jo has been appearing as Xena since the show aired back in the late 90′s and has worked with many of the stars from the series. Jo's first appearance was at the Forbidden Planet Nottingham on a Xena theme day. She was also a finalist at the Madam Tussauds Celebrity lookalike competition. Other major dates include: -
* Film and memorabilia exhibition. NEC Birmingham
* Xena Festival (Xena convention Birmingham)
* Lord Mayors Parade Nottingham
* Gallaxion sci-fi Convention Olympia London
* Forbidden Planet Star signing evening With Robert Trebor (Salmoneus Xena Hercules)
* Panathenea Xena convention Britannia International Hotel Docklands London
* Opening of The e wine bar, Hinckley
* Starfury- Chariots of war 3 (Xena Convention) London.
* Upfront Entertainment's Agency – Lookalike / Tribute Evening.
* Upfront Entertainment's Agency – Booking as Xena on several occasions
* Pasadena 2002 Xena Convention – LA (appeared in costume contest).
* Starfury – Chariots of war 4 (Xena Convention) – London.
* Xena Convention Burbank 2003 – Los Angeles
* Xena Convention Burbank 2004 – Los Angeles
* Strong Women of Sci-Fi Convention – London
* Top Lookalikes Agency – Booking as Xena at big London event
* Appeared as Xena at Games Workshop Awards Evening