Happy New Year from Jo! I hope you all had a great Christmas and thanks for your continued interest!
Since I posted last, Birmingham Memorabilia was approaching and this time I decided Xena was due for an outing again. Always enjoying going to Mem, it was incredibly busy on the Saturday and the crowds and narrow aisles created some bottle necks but thankfully was calmer on the Sunday. Loving talking to and seeing some of the awesome artists there showcasing their work. Looking forward to the March one so hopefully may see some of you there. Thanks to Keogh's Photography photo at the top of this post for a great photo!
The Private Lives of the Monarchs has aired on the Yesterday Channel and you can see me pop up a few times on the episode of George III and the Prince Regent. I think its still be played and you can catch it on the UKTV Player.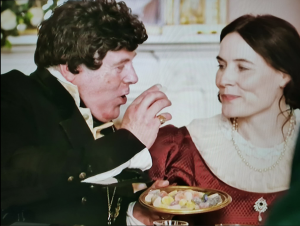 Beginning of December saw Sean and I pop over to the Isle of Wight for the Victorian Christmas weekend at Osborne House. Always enjoy popping over the the IOW, especially in the summer as its really pretty.
A very cool gig came in for a corporate Christmas party with an Enchanted theme. I was asked to appear as an Evil Queen character and they had a purpose built grotto with cauldron which looked awesome! I was there asking the guests some fairytale themed questions in which they had a chance to win tickets to see the show Wicked and an evening meal for 2. I wore my unfinished Maleficent dress (without the collar and headpiece) with my Morrigan crow cloak. The combination of the 2 with my red wig and a crown looked great. It was really fun to do and had a great time!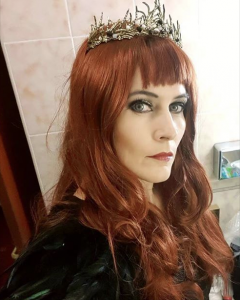 Here is a quick selfie!
Shame I didn't have anymore photos taken but this gives you an idea of the look

Sean and I made an appearance to help promote the new FOE Board game I mentioned in my last posting. We headed down to an event near Southampton to chat to the public and even play a battle against some of the attendees. Needless to say my overall score was the best

The Empress rules supreme! Here you can see our great promo posters of our characters in the game. It was a real fun day and hopefully raise awareness of the project. Please check out the FB Page for more photos and details of the event and game itself.
https://www.facebook.com/foeboardgame/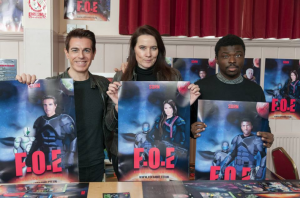 With the release of Star Wars The Last Jedi just before Christmas, this led to several appearances as Stormtroopers all over London at different cinemas for private screenings. A mixture of original and new trooper bookings, with one of my favourites being at the Electric Cinema on Portabello Road where we stood outside of the entrance as the guests arrived. We created at lot of interest from the guests arriving and the passing public on ther way home.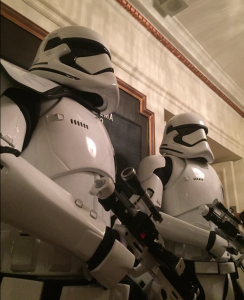 Here we are just before we stood outside, if you haven't been to this cinema I highly reccommend it as inside you have large leather seats and foot rests to relaxing in whilst watching the film! Nice.
The last appearance before Christmas saw Sean and I returning to Woburn Centre Parcs as Jack Sparrow and Elizabeth Swann for the Breakfast with Santa. A really enjoyable one this as you can spend time talking to the families and seeing how excited the children are. The other nice bit is we get fed afterwards the yummy breakfast! Winners all around lol.
Well thats it for the now, here is to a fantasic new year ahead and many more fun filled adventures!!
Jo