Ok back tracking to September I attended the starbase 24 annual banquet as a guest with Sean along side my lovely friend John Carrigan and his wife Annie. The lovely Virginia Hey and J G Hertzler were also guest at an awesome event and all in aid of Macmillan Cancer Care. This was a lovely well planned event and I had the opportunity to appear as a special guest to talk about my filming experiences as well as dressing as Xena for the photo ops with proceeds going toward the charity pot. I managed to sell a couple of my leather hair barrettes as well which was great. It was a lovely event which I look forward to support again next year.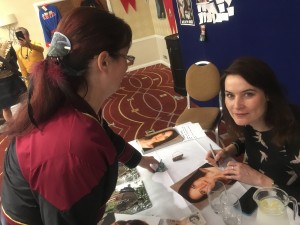 I have also had the pleasure of working a few days on the popular childrens TV Show Horrible Histories. Such a laugh and a lot of fun to work on this series, I have been dressed in lots of different costumes and covering an array of time periods. Lovely crew and production, will find out when its due to air.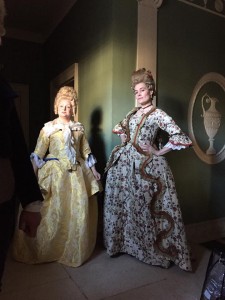 Then the best part of this year, going on holiday to Los Angeles with Sean, staying with friends and experiencing new adventures and making new friends. Love visiting LA, it always presents new and exciting times, even more special when other friends are over at the same time. John Carrigan and Annie where there too and we spent sometime together having such a great time. We went to Universal Studios which is always a must when in LA, weather was great and company even better. We were also introduced to Anthony De Longis and his lovely wife Mary thanks to John and also to Ben Alpi and his lovely wife Jyotika, all lovely people and a pleasure to know. What was very exciting was getting a bullwhip lesson off the master himself Anthony, he trained Michelle Pfeiffer for her role as Catwoman and Harrison Ford as Indy! Flippin amazing!!! What an experience and I will follow it up with more lessons when over next in LA.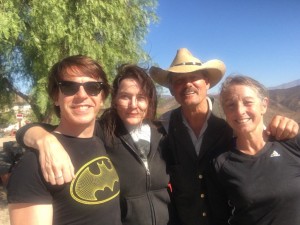 We also visited my friends in Yucca Valley to spend time with them and visit Pioneer Town for good drinks and food. First day there we ended up on a 4 hour trail ride in the desert! Lots of fun times!
Whilst in LA I did a bit of filming for a little shoot which saw a fight ensue with Xena and Red Sonia! The actress who plays her contacted me before I flew over about the idea of the 2 amazons crossing swords. I took my Xena costume over with me and ended up shooting for a day in a glade. Not sure as and when it will be completed but of course will post on here any news or links.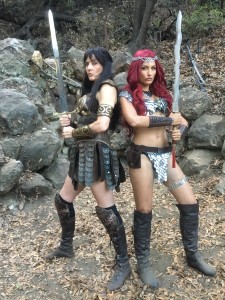 After all the excitement of Los Angeles and back in the UK Sean and I were heading down to Dover Castle for the Halloween holidays helping children make masks and spooky spiders! Great working with Griffin Historical again and thankfully the weather was kind and we had some beautiful sunsets most evenings.
And finally some great news about the Tales of Albion film I did a while back. The film is now available for pre-order and will be available from the 12th December. Please follow this link for further details http://www.talesofalbion.com/ where you can order your copy. The premiere is being held on the 11th December which I will be at and will post some photo too. Very excited to see it completed and see all the hard work that has gone into this project. Please support the film by purchasing a copy!

The photo at the top of this post is a shot from one of the days I was filming.
Well thats it for the mo, I'm sure there will be plenty to post over the next couple of months so keep checking back.
All the best
Jo