Just a bit of an update since the last post. The DVD of In the Name of Ben Hur is now available in the shops too but the cover is a little misleading as it doesn't have the full name on the cover and also the picture doesn't really relate to the story of the film? Bit strange but there you go! This is what the cover looks like if your interested in checking it out.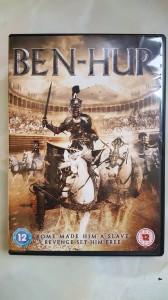 Done a few days of appearances and filming over the last month or so, with a couple of Stormtrooper gigs inbetween. Catwoman and Elizabeth Swann also made appearances at a couple of events recently which was fun especially when you get to sit in an awesome batmobile! (as catwoman

)
Filming wise I did a days work on an episode of Forbidden History about Mary Magdalene at Chislehurst Caves, awesome location which has seen the several TV shows film there including Merlin. Have also done several days on Liam Neesons new film The Commuter as well as a commercial which has a massive Disney tie in, can't say anymore on that but it was an awesome days filming. Have also done a few days stand in work on a big superhero film which was pretty cool, shame it wasn't more days. Enjoying immensely working on the popular childrens show Horrible Histories and hopefully will have a few more days as the production is brilliant to work on and funny too. Filmed another day on Humber City in Hull, thankfully its nearing the end and hopefully will all be done in a couple more days of shoots and be wrapped by end of November.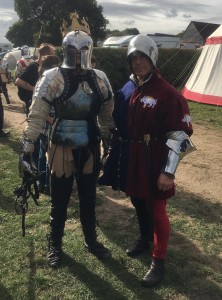 Battle of Bosworth Reenactment
August saw the return of Boswoth Battle which I do love going to, mainly as its  full of memories from years back and seeing old friends again. It would have been fun to say I played the King but Henry Tudor didn't want the crown so he gave it to me after the battle!

This weekend (23/24th Sept) I am attending the 10th Starbase 24 Anniversary Charity Banquet in Peterborough as a guest of the event. I am very much looking forward to it and I shall post a report in the next posting. I shall be appearing as Xena but also as myself and talking about filming, should be fun

Well thats it for the mo and thanks for dropping by!
Jo