Well I managed to get a moment to post again, thanks so much for checking up on me!

Crickey where to start, ok I was on another Alien Isolation promo, this time for the TV show Video Game Nation. I spent the day with the makers of the show filming several scenes with the presenters in an underground vault in London! It was a tough days filming but still enjoyable and the final show looked great thanks to my Alien Annabelle!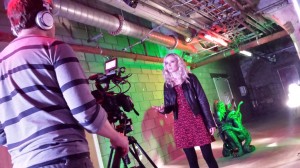 Memorabila came around soon enough and alongside the UKG Sean and I attended the weekend which as always was a lot of fun. As you can see from the posting below I had the chance to meet the lovely Cary Elwes from The Princess Bride, he was very lovely and complimentary. Also met the charming R J Mitte from Breaking Bad, so sweet and made time to chat to everyone which was great. Met lots of other people during the day and had a great time as ever at Mem, one of my favourite events.
Took part in an awesome Batman stunt show as Catwoman for the Army's Christmas do, great gig really fun to do.
Been working several night shoots on the new film Now You See Me 2. It was brilliant to see such great actors on set but the cold long nights made it a hard job to endure and was pleased when I finished the run as its tough work. The film won't be out for a while as they have just started filming but will keep you updated nearer its release.
Next it was off to Osborne House again, this time for the Victorian Christmas weekend helping children making Christmas cards and decorations. Again cold days but the setting and company was lovely and working with Sean is always nice and the public had a great time.
Just come back from the second out of two weekends at Wrest Park, helping with the audience with Father Christmas days. It was great fun and brilliant to see all the excited children as they listened to Father Christmas and asked him questions. Here is a photo of me after we had finished, standing what is believed to be the oldest Christmas Tree in the country, planted in 1856! Its over 100ft tall wow!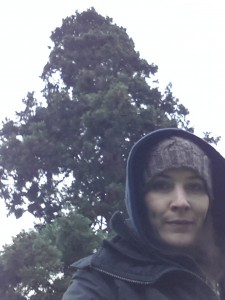 Inbetween the 2 weekends I was lucky to be on the second row from the front for the final arena tour of Jeff Waynes War of the Worlds live show in Brighton. It was absolutely brilliant and well acted/sung by all the cast. Have to say Jason Donnovan threw himself into the role of Parson Nathaniel and gave a cracking performance! Lets hope there will be more shows in the future.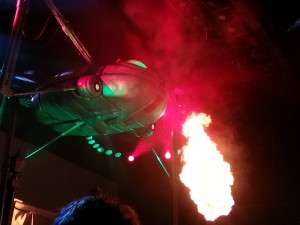 Martian Fighting Machine in action!
My last couple of days before Christmas I am working with a team of people bringing a life sized Polar Bear to life at Father Christmas world. The Bear is amazing but very difficult to operate due to the painful position you have to be in inside it but it looks amazing!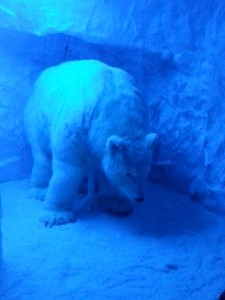 Well thats it for now, thanks so much for your support and I will post again around New Year, I have a pirate swordfight show to do over Christmas and I will post some photos up from that.
Thanks again and have a wonderful Christmas xx
Jo