Well lots to report since my last posting.
Over the Easter weekend I was working at Dover Castle, very imposing and dramatic especially with the changing weather.  A little chilly but the crowds came out in force and the Childrens Festival went very well with multi period performers entertaining the crowds. I was doing the Roman mosaic activity which was fun but as ever busy, chucked in a story telling session too which was fun.
On a sadder note my lovely Xena horse lookalike Lori had to be put to sleep due to complications recently. She will be sorely missed by myself and her owner Marianne. A lovely sweet natured horse and the best Argo lookalike. Will miss doing  photo shoots with her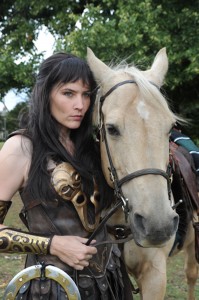 On a happier note the Anne Bonny film had its premiere at the Prince Charles Theatre in Leicester Square. Really happy how this short film turned out, check it out here and use the password 'snugbar' to view it. https://vimeo.com/123885163

A meeting will be arranged very soon to start discussing the feature length version of the film. Will keep you posted how it goes.
Popped along to the new Birmingham Comic Festival  at Edgbaston Cricket ground. It was a great event seeing it was the first one and look forward to next years event. Sean and I went as Dark Phoenix and Wolverine which was a nice change from Xena and Jack.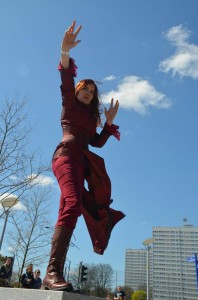 Taken by Dan W
May Bank Holiday saw me at Tatton Park as part of the Tudors on Tour event. I was on the leathercraft stall showing folks how to stamp leather which was a have a go activity. Was very pleased when the three days were up as the constant hammering noise level was pretty intense when everyone was working at the same time!
Inbetween all these activities I have been busy working on costume commissions and hair barrettes. Here is the Game of Thrones costume I did, which I am quite pleased how it turned out!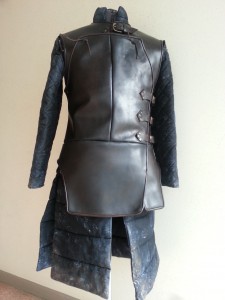 Right events coming up! Will be heading off to Bristol this coming weekend as a Stormtrooper for a wedding and then the next weekend (Bank Hols) will see me at Gloucester Tall Ship Festival with Sean and Jeff. We will be performing 2 sword fight shows a day plus other performances. Come along and enjoy the weekend its packed full of great entertainment!
Then straight after off to Osborne House on the Isle of White being Victorian characters for the big event there! Busy busy

May see you at an event?
Jo