Again apologies for the slowness of posts and briefness!
I have been working all over the place since I last posted, Hadrians Wall twice, Bodiam Castle with Destrier, Eltham Palace, Old Sarum Castle and off now to Cornwall! Will be going to Bosworth Battle this coming weekend 16/17th August and then off to Battle Abbey again. The rest of August is taken up with Destrier at Herstmonceux Castle and Leeds. Only in September things calm down a little.
I have been working on a big film for a few days and have had the best time ever, as ever I can't say much on public sites but I will say it involves a few superheroes!

Can't wait to update you guys on this but will have to wait until next year when the film is released!
In the meantime I have just started on my Xena short film which is happening at last, very excited to see how it turns out but its looking good so far! Above is a photo taken on set, will keep you posted as to how its coming along

I will add some photos and a more indepth posting at the end of the month, just wanted something posting in the meantime.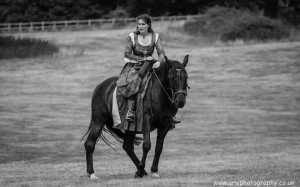 Here is a lovely shot taken by ARW Photography of me at Bodiam Castle last weekend
Jo